Mobile Event Flume ...
... is manufactured from plastics. The unit uses a specifically designed steel frame as bracing and can be individually sized, as desired by our clients. The pool, equipped with all beneficial features and comfort of proven TZ technology, offers individual swim training both in streaming and still water. The fact that you can boost your overall fitness with exercises for better strength, endurance, speed and agility using different aids, make the pool a high-quality gym.
You can actually become your own personal trainer, here.
The whole-body massaging effects of streaming water are extremly popular and deserve special mention, here. With a large number of possible games for the pool, it simply makes your leisure time FUN!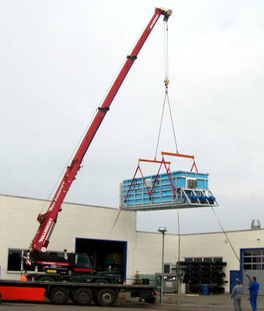 Technical specifications:
Pool Size:
5,00 m x 2,50 m x 1,35 m
(L x W x D)
Flow Rate: 0 - 1,7 m/s
Drives: 3 Drives each 15 kW
Additional Equipment:
Control and Measuring Computers
Motion Detection System
Underwater Window
Realization: 2009
Gallery
Back