Private CCP in Davos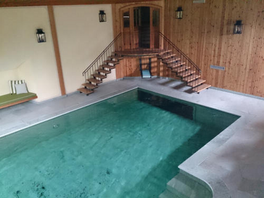 This Counter-Current Pool was modified to fit in a natural stone pool with wooden walls.
Counter-current-pools with partial flow, i.e. not over the total surface, allow steps to be installed in the part of the pool where the water remains calm. This type of TZ counter-current pool is primarily used for recreational sports and offers individual swim training in streaming water.
The fact that you can boost your overall fitness with exercises for better strength, endurance, speed and agility using different aids, make the pool a high-quality gym. You can actually become your own personal trainer, here. The whole-body massaging effects of streaming water are extremly popular and deserve special mention, too. With a large number of possible games for the pool, it simply makes your leisure time FUN!
Technical Specifications:
Pool Size:
10,00 m x 6,00 m x 1,35 m (L x W x D)
Flow and Width: 2,50 m
Flow Rate: 0 - 1,6 m/s
Drives: 2 Drives each 22 kW
Additional equipment:
Control and Measuring Computer
Remote Control
Realization: 2007
Gallery
Back