The Pool with Counter-Current System and Lifting Floor in Zurich …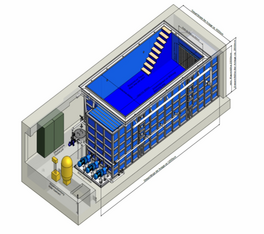 … is actually made of plastic material. The counter-current pool features a specifically designed steel frame as bracing, and is available in various sizes and dimensions. We equipped this private counter-current pool with a lifting floor that actually closes the pool when not needed (e.g. during winter season).
The pool facilitates very individual swimming training in both streaming and still water.
The counter-current pool features a so-called "partial streaming-zone" that enabled the installation of stairs in the part of the pool where the water is "still". With the water counter-current system turned "OFF", water depth is 1.60 m. With the current turned "ON", water depth is lowered to 1.35 m..
Working out in the pool helps you to boost your overall fitness with exercises for better strength, endurance, speed and agility. You can intensify your training with all sorts of different equipment and accessories. Or, in other words, this counter-current pool can be your very own high-class gym where you are your own personal trainer.
You can also use water balls, noodles or balloons to make your counter-current pool training – whether by yourself, or with family and friends - even more fun!
Technical specifications:
Pool Size:
8,00 m x 4,00 m (L x W)
Depth:
1,35 m bzw. 1,60 m without Flow
Partial streaming strip width:
2,50 m
Flow Rate:
0 - 1,4 m/s,

Additional Equipment:
Lifting floor
(closes the pool when not in use)
Realization: 2017
Gallery
Back