The Swimming Flume OTC Halle/Saale ...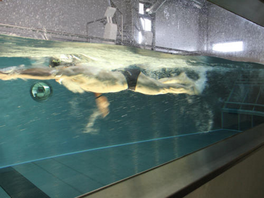 ... is operated with current speeds of up to 2.5 m/s and yet offers an homogenous current profile – perfect conditions for swimmers! There are no waves causing adverse effects on the swimmers' breathing or swimming position. Our R&D team has successfully reduced air bubbles to a minimum. Even in high speeds of more than 2.00 m/s visual conditions are still excellent - what a great additional advantage!
For more efficient training methods, we consider it indispensable to monitor:
Complex performance criteria
Partial abilities and
Swimming technique skills
all under reproducible conditions.
Our state-of-the-art flume offers all of these excellent conditions!
We are proud to say that this is "one of the most modern flumes in the world".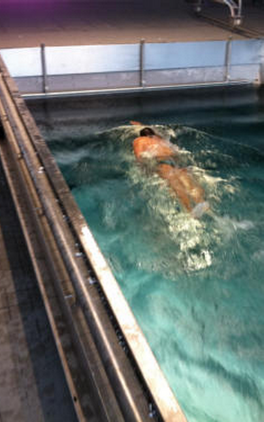 Technical Specifications:
Pool Size:
7,00 m x 4,00 m x 1,35 m (L x W x D)
Flow Rate: 0 - 2,5 m/s
Drives: 3 Drives each 45 kW
Additional equipment:
Foldable Handlebar
Patient Lift
Retractable Stairs
Control and Measuring Computer
Remote Control
Motion Detection System
Video Projector
Underwater Window
Realization: 2011
Gallery
Back