This swimming flume OTC Hamburg ...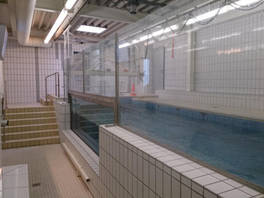 ... had originally been built by the utility company Hamburg Wasserwerke GmbH in 1991.
In 1992, the swimming flume was taken into operation. Unfortunately, it turned out that the client's planning objectives were not fully achieved.
In 1995, the TZ Leipzig was commissioned with the restructuring and reconstruction of the swimming flume using proven TZ technology. As a result, the swimming flume has been successfully in operation since then!
In 2008/2009, TZ Leipzig technicians integrated a new air extraction system and renewed the control technology.
This highly-efficient swimming flume is now used by satisfied professional swimmers in their performance diagnostics and training.
Technical specifications:
Pool Size:
7,50 m x 2,50 m x 1,30 m (L x W x D)
Flow Rate: 0 - 2,3 m/s
Drives: 2 Drives each75 kW
Realization: 1991
Modernization & Renovation:
1. in 1995
2. in 2009
Gallery
Back