The Swimming Flume Shanghai ...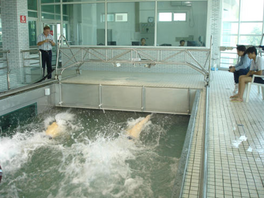 ... is located in the Training Camp "Green Boat" (about 80 km north to city center).
In "Green Boot" sind alle Sportarten von Shanghai etabliert.
The "Green Boat" accommodates all types of sports of Shanghai. Due to its sheer number of sportsmen and athletes using it, the flume is probably the most frequently used facility for training and performance diagnostics in the world!
The TZ flume is located in a hall equipped with several swimming, jumping, therapy, relaxation and water polo pools.
Technical Specifications:
Pool Size:
6,00 m x 4,00 m x 1,50 m (L x W x D)
Flow-Rate: 0 - 2,5 m/s
Drives: 3 Drives Each 75 kW
Additional Equipment:
Foldable Handlebar
Control and Measuring Computer
Remote Control
Motion Detection System
Video Projector
Underwater Window
Realization: 2004/2005
Gallery
Back