This whitewater facility in Rizhao (China) ...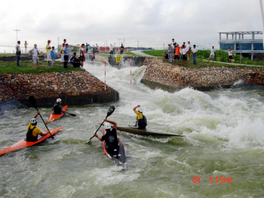 ... has a competition course for canoe slalom, a whitewater rafting course that can also be used for recreational canoeing and a separate course for children and their training.
This whitewater facility with integrated cutting-edge TZ technology is operated using seawater from the Yellow Sea.
The TZ-Technology provides varying difficulty levels that are used for both training and competition purposes under Olympic conditions. The obstacles are partially moveable and vertically adjustable during training sessions.
The competition course is operated with a water flow of between 14 m³/s and 21 m³/s, the children and training course uses around 7.0 m³/s and the rafting and recreational course uses a water flow of approximately 14 m³/s.
Technical Specifications:
Lengths and Elevation Differences:
Competition distance:
397 m; 6,5 m
Children & Training Course:
226 m; 3,0 m
Rafting and Leisure:
646 m; 6,5 m
Additional Equipment:
Moving Obstacle Stones
Realization: 2007
Gallery
Back