Performance Sport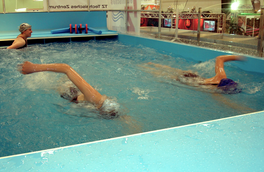 For more than 40 years, competitive swimmers highly appreciate the results you can achieve with a TZ flume used for training and performance diagnostics*. Acclaimed sports associations from all over the world use our cutting-edge technology for setting specific performance level goals and actually revolutionize competitive sports training. *In this context of competitive sports, the term "flume" is used to describe the large counter-current pool used by professional athletes.
Our sophisticated flumes have become an indispensable tool in the training of high- peformance athletes. They facilitate an effective building-up of specific athletic skills such as endurance, speed and swim-specific strength. For best results, the streaming water is used selectively and targetly in training and performance diagnostics. Our cutting-edge technical equipment is a great support for the daily work of trainers, sports methodologists, bio mechanics, scientific advisers, and of course, of the athletes themselves. Technical parameters, such as current speeds, can be individually adjusted e.g. from 0.0 – 2.5 m/s to meet individual case requirements.
Clear Benefits Of The TZ Flume
The TZ flume delievers streaming speeds of up to 2.5 m/s – and the streaming profile is still homogenous! These are fantastic conditions for swimmers! There are no waves that would adversely affect the swimmer's breathing or swimming position. The TZ engnineering team has elaborated a unique system to reduce bubbles introduced or caused by the swimmer to a minimum. So, even at speeds of more than 2.00m/s visual conditions are perfect!
For even more efficient training methods it is essential that complex performance criteria, partial abilities and specific swimming skills are evaluated under exactly reproducible conditions. The TZ swimming flume does exactly that…and it doesn't stop there…!
Perfect Lab Conditions For Sports Scientists
With our integrated objectivation technology, sports scientists can work out the basics for efficient endurance programms under perfect laboratory conditions, such as exactly reproducible water speeds and stable water temperatures. It is enormously beneficial to evaluate the specific effects streaming water has on each patient's or athlete's organism. The underwater window is used for targeted observations, measurements and video recordings.
What Exactly Is Being Done?
In the TZ flume, swimming and tactical skills are optimized for a perfect competitive strategy at the highest quality level. The training process can be refined and improved accordingly. Using biomechanical, sports-medical, sports-psychological and training- methodological investigations, the individual performance level is objectivated. As a result, athletes' individual endurance strategy is boosted and training concepts get more efficient.
... And it Does Not Stop There …
What actually happens in case of athlete injuries? The TZ flume includes best-industry equipment to guarantee an efficient rehabilitation of competitive athletes - not only for swimmers but many other disciplines.
This flume is particularly well suited for training centers, large sports clubs and rehabilitation centers for athletes.