The Private Counter-Current Pool at Frankfurt am Main ...
... is manufactured from plastics. The unit uses a specifically developed steel frame as bracing and can be individually sized, as desired by our clients.
For its use in private homes, the counter-current pool is equipped with a lifting bottom which enables the pool to be actually "closed". Not only is the pool protected from dirt (remember that the flumes can even be installed outside the house) its elegant and high-quality material cover adds an attractive design feature to it and …
Counter-Current-Pools with Partial Flow (streaming-in), i.e. not over the total pool surface, allow steps to be installed in the part of the pool where water remains calm. This type of Counter-Current Flume by the TZ company is primarily used at leisure sports facilities where it facilitates an individual swim training in streaming water. The fact that you can boost your overall fitness with exercises for better strength, endurance, speed and agility using different aids, make the pool a high-quality gym. You can actually become your own personal trainer, here. The whole-body massaging effects of streaming water are extremly popular and deserve special mention, too. With a large number of possible games for the pool, it simply makes your leisure time FUN!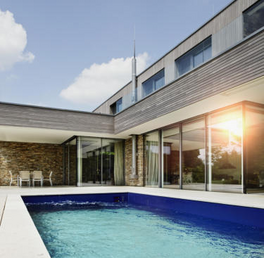 Technical specifications:
Pool Size:
8,0 m x 4,0 m x 1,35 m
(L x W x D)
Flow Width: 2,50 m
Without Flow: 1,60 m Water Depth
Flow Rate: 0 - 1,4 m/s
Drives: 3 Drives each 15 kW
Gallery
Back